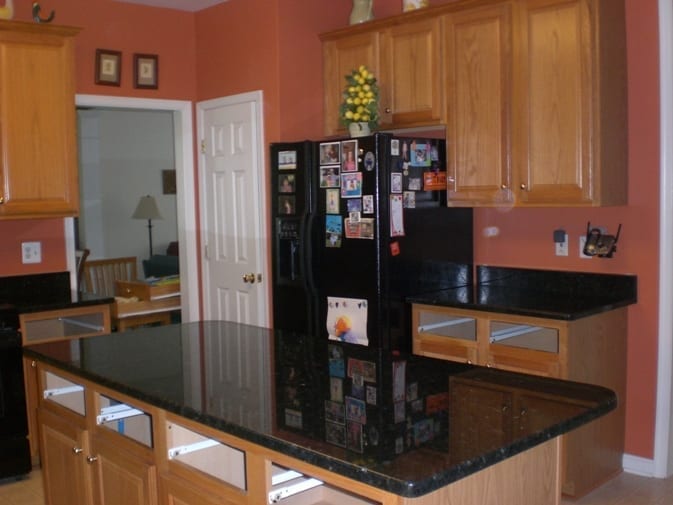 Marble Kitchen Countertops in Manassas
November 8, 2017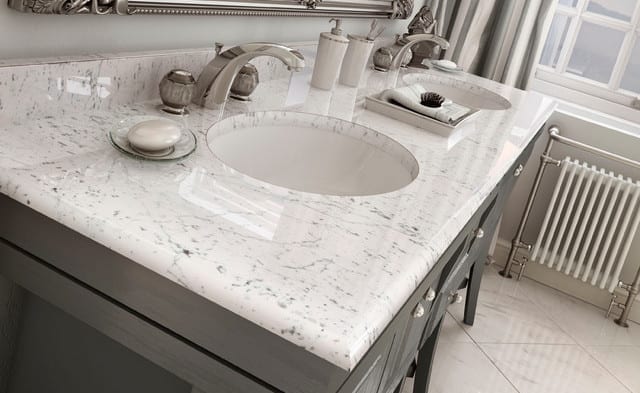 Bathroom Vanity Tops
November 8, 2017
Ever look at your quartz kitchen countertop and think: "My kitchen countertop, is made from one of the most common minerals in the Earth's crust and it is make-up makes it chemically and physically resistant to weathering". Well no of course not, its not the first thing that comes to mind, as quartz countertops are known for being very beautiful and eye-catching.
Quartz kitchen countertops, are available in an array of beautiful colors like classy browns, creams, blacks and some wild out of the box colors like apple green and or fiery red. These colors are usually accompanied by some veining and or sparkling almost resembling granite and or marble. Quartz countertops, however, unlike granite are made in a factory using ground quarts which is then mixed with polyester resin to act as a binding agent and give it a little extra color. If you want a little something different you can either request or buy quartz designs that have recycled glass and of flecks of metal incorporated in them.  The adding of resin makes the quartz kitchen countertops scratch and stain resistant although the quartz kitchen countertops will require being sealed.
The upside to using quartz kitchen countertops is that they are as strong as granite but what separates them from granite is that they have more flexibility and as such they are much easier to install. An added benefit to using quartz is that you do not need any sealing, which means it is basically a requires little to no maintenance. So if you drop a glass of wine on a quartz kitchen countertop all you need to do is get a cloth and simply wipe it off.
Unfortunately, although they are quite durable, they aren't without their limits and can be destructed and or subject to discoloration over the course of time, particularly if any part of the counter is exposed to sunshine. Another downside to quartz kitchen countertops is that they weigh more that granite kitchen countertops and as such they do require professional installation.
When looking for quartz kitchen countertops in Charlottesville, have a look at the beauty that is available at Discover Granite and Marble like LG Viatera surfaces that are made from natural quartz and have qualities that have been said to surpass a natural material. They come in an array of colors like Antique Limestone, Cabo, Castle, Brownstone, Dover, Equinox, Galaxy Ice, Himalaya, Lunar Ice, Minuet, Rococo, and several more.
They also offer other types of quartz like Caesarstone which is quite hard and considered to almost be as hard as a diamond; Cambria which is a natural quartz that will give your home a constant welcoming feeling; Zodiac, which is a new type of surfacing material that has the resemblance of quartz in terms of its depth, radiance, strength and clarity.
Having looked at all the makings of quartz countertops the benefits, the variety of quartz kitchen countertops in Charlotesville; these are more than enough reasons to be pleased with your quartz kitchen countertops if you already have them or get to your nearest Discover Granite and Marble and find the right quartz kitchen countertop for your kitchen.