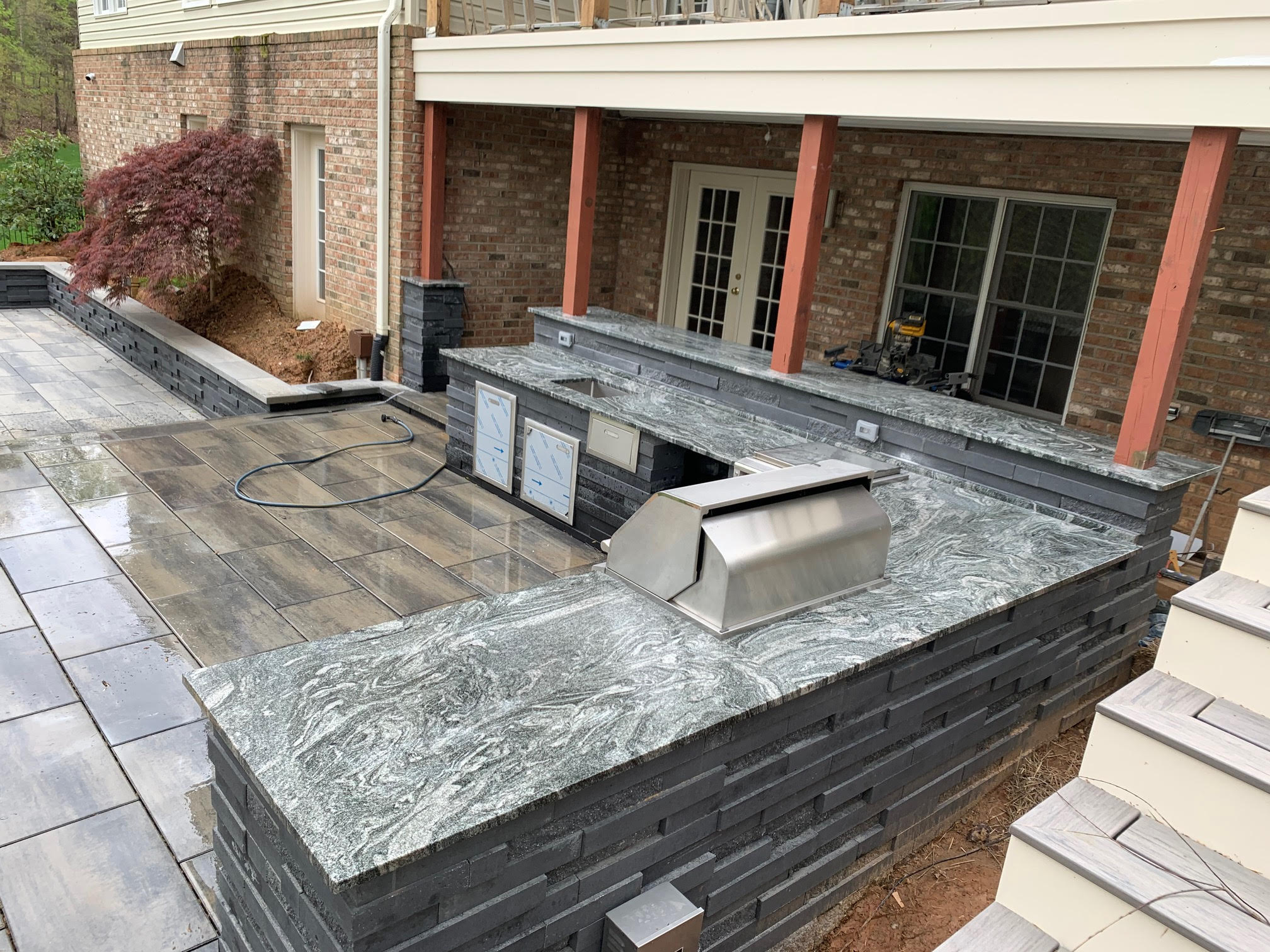 As the name suggests, an outdoor kitchen must withstand the weather conditions. For this reason, in an outdoor kitchen, high-quality and robust materials such as granite or quartz countertops are mainly used.
August 12, 2021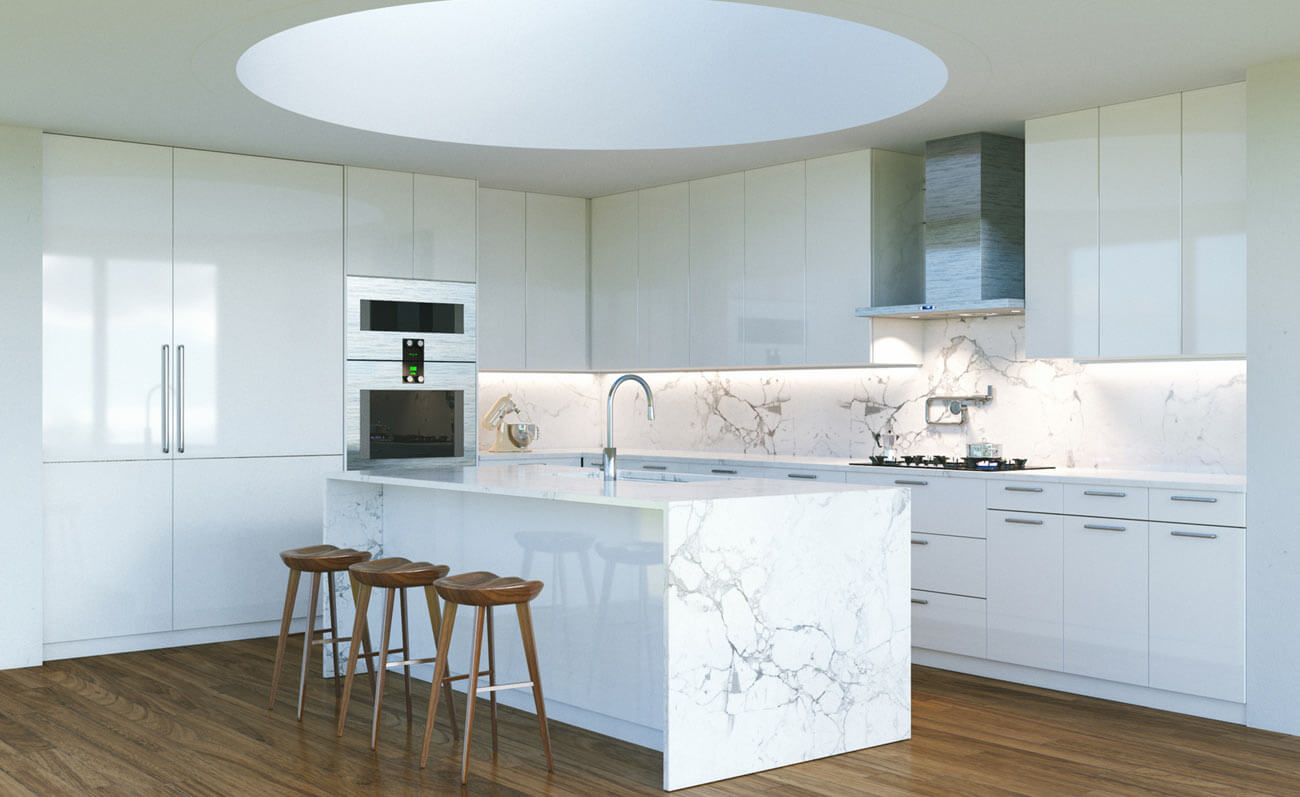 The trend is clearly moving in the direction of white kitchens. The kitchen images from our current projects prove it: almost every second one is finished with white countertops, whether marble, granite countertop or quartz countertop
September 4, 2021
The natural aesthetics and sheer beauty of Granite can be enjoyed from the floor to the ceiling in a bathroom. A few great examples are Granite tub surrounds, Granite shower enclosures, and Granite vanity tops.
An interior trend that is making its way into kitchen design is surfaces with a pleasant stone look. White or brown marble, granite countertops and quartz countertops are used. These surfaces are used for countertops and give the kitchen a particularly elegant design. In addition to classic trend lines such as Naturalness and Elegance, there are also quite contrary movements such as Extreme Minimalism and Excessive Opulence. In addition, new colors, materials and styles are very much in demand and are shaping the kitchen worlds.
1. Black Is The New White
A real wow! The black kitchen cabinets, which have a non-traditional and unique vision, become an eye-catcher of any kitchen. In fact, the unimaginable (until recently) idea of a thoroughly black kitchen is now fashionable - carried out, of course, with the typical spirit of the times and style.
In addition to black, "Dusty Colors" are in demand. Dusty Colors are nothing more than muted, matte colors with little luminosity. The gray tones will be used with green, blue, purple or brown shades to give the kitchen a very special ambience. Dusty Colors harmonize wonderfully with dark wood tones and various types of stone. The Dusty Colors trend is particularly popular with handleless kitchen designs or modern country kitchens, where the new gray tones such as slate gray or sand gray are an interesting alternative for classic white country-style kitchens.
2. Back To The Roots
If black kitchens and minimalism aren't your thing, you may find yourself drawn to modern interpretations of the country kitchen. Here, the dining area and cooking island often merge into a centerpiece that gathers the entire family around.
State-of-the-art ovens at eye level and plenty of cabinet space create the spacious style for which country-style kitchens are so popular. Fresh herbs, natural materials, short distances and a central layout are combined with modern fronts to create a place that couldn't be more contemporary. Rural carvings or references to them are completely avoided.
3. More Courage For Color
In addition to the color trend of muted tones, colorful tones are also in vogue in kitchen furnishings: sunny yellow, bright orange, fiery red and fresh green set the tone. Here, there are no limits to the individual preference for the favorite color, because the possibilities for immersing the kitchen in creative color worlds are great.
Colors influence objects and rooms. Whether colored upper cabinets, shelves or side panels - any color can be combined with any other color. As a purposefully used accent, the strong colors lend a colorful eye-catcher to kitchens in white, black or gray tones in particular, without being too obtrusive or dominating.
4 Ecological And Sustainable
This is reflected not only in the consumption values of the installed appliances, but also in the materials used, which should be durable, resistant and as natural as possible. One furnishing trend making its way into kitchen design is surfaces with a pleasant stone look. White or brown marble, granite and quartz countertops are used. These surfaces are used for countertops or kitchen fronts and give the kitchen a particularly elegant design.
5. Highlights For The Kitchen
Copper will also not disappear into oblivion, but persists in kitchen design. In the kitchen we find copper as a decorative element mainly in the form of vases, bowls and lamps, but also as handles and mixer taps. Especially in combination with black kitchen furniture, copper emphasizes the elegance in the kitchen and is thus best combined with the trend number one.
Premium Granite
countertops
kitchen
wood