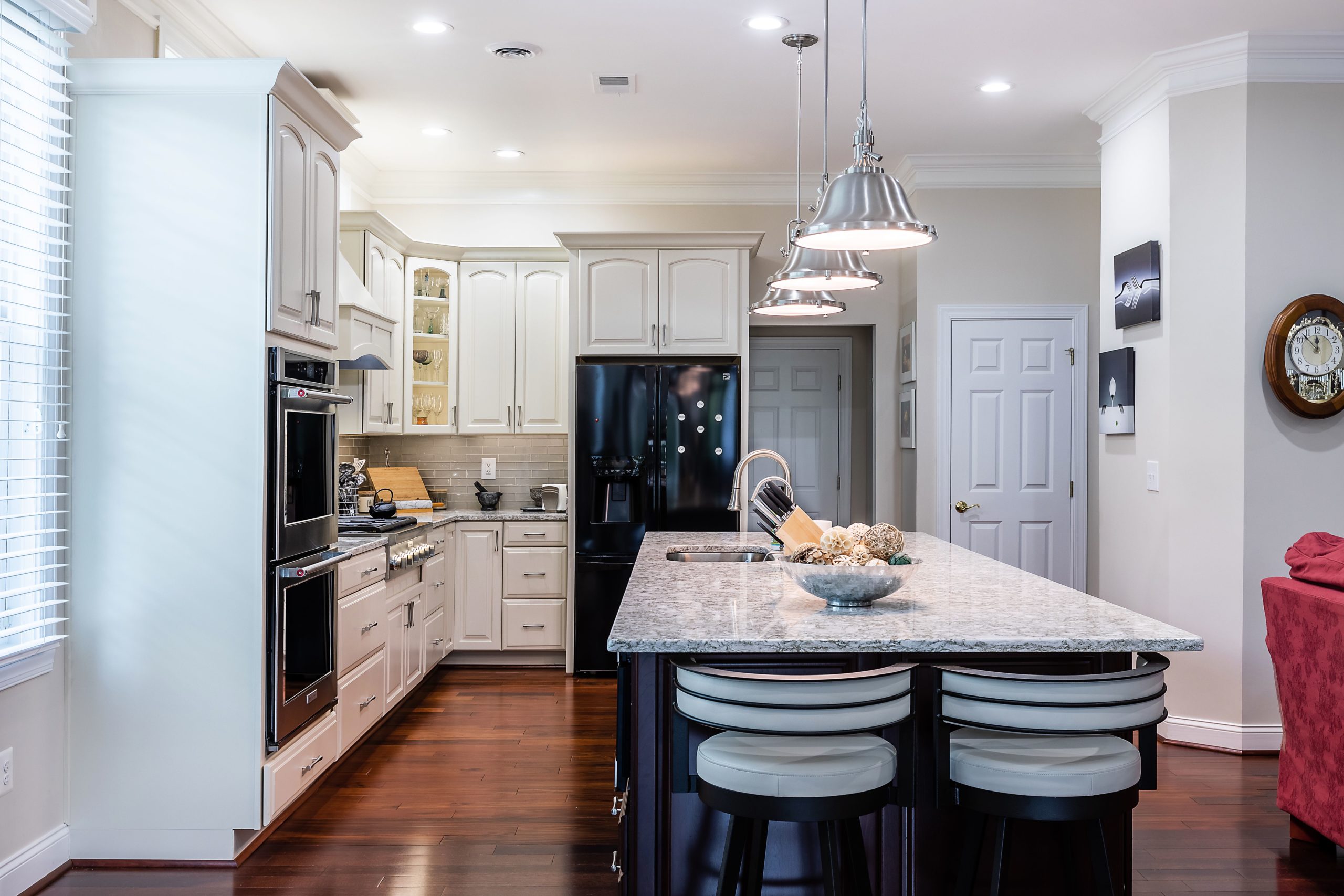 Selecting a Granite Kitchen Countertop
January 2, 2022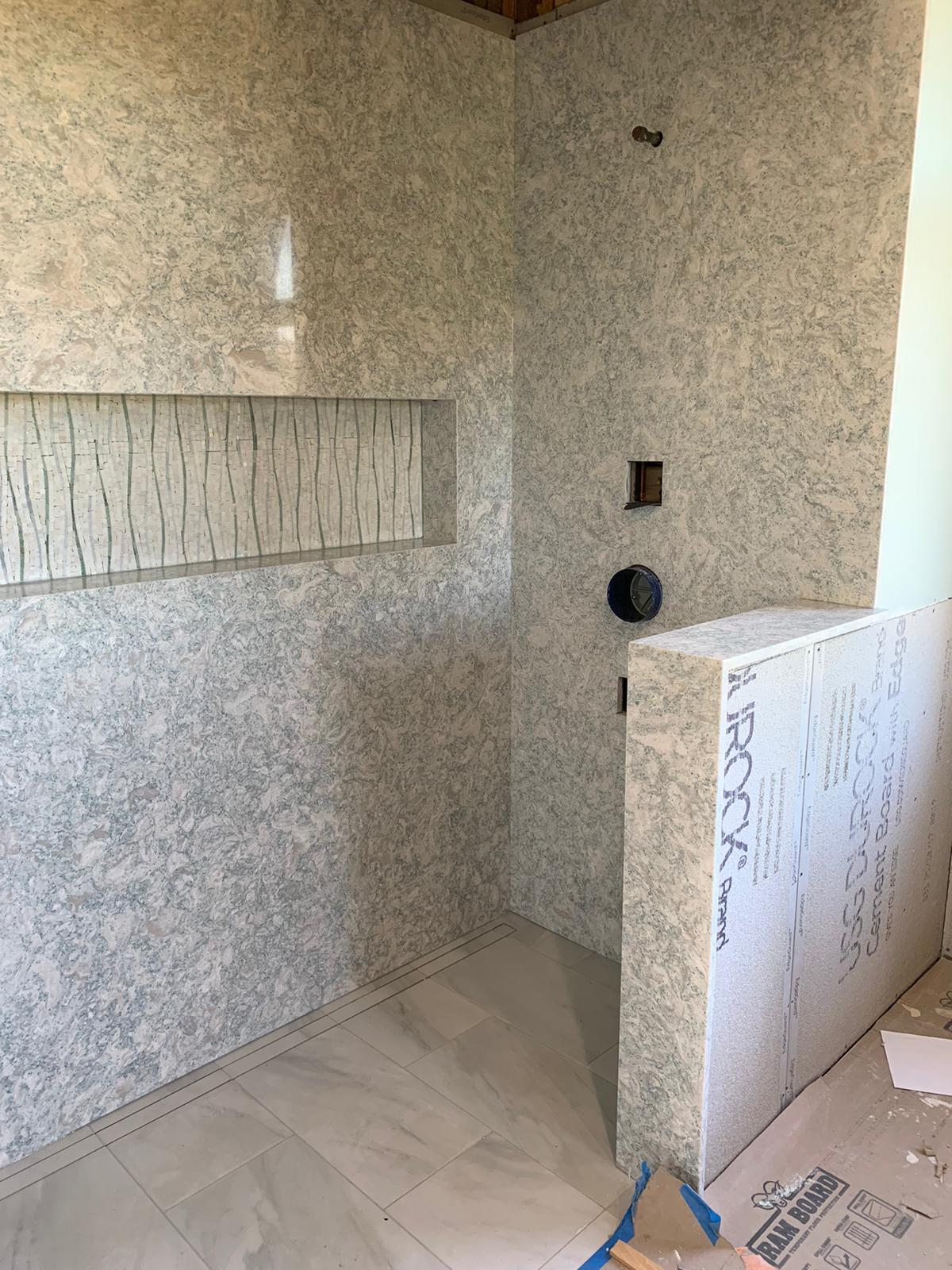 Granite brings unique visuals and the veining adds to the visual texture of the space on bathroom shower walls and enclosures
January 17, 2022
Quartz: also known as engineered stone. It is highly durable, but is can also be quite expensive. However, it gives you the most flexible application as it can be custom-made into any size or shape.
Today's homeowner has so many choices for their kitchen tops that it makes it so hard to choose. Choices of countertop materials can be granite or quartz amoung the others. The advantages of using granite are numerous and being a natural stone, the variation in color, makes veining, and movement makes each top unique on the other hand lots of advantages of using quartz too. Quartz is engineered stone, the variation in color and patterns design makes each top unique
---
Some of our customer from Manassas and Montclair VA chose QUARTZ in white color for her Bathroom Vanity Tops. They prefer to work with Discover Granite & Marble for their contemporary Bathroom project. Now They are having special time with their dream Bathroom Vanity Tops.
Quartz Bathroom Countertops
When designing a home, a bathroom is a room that you will use every day, multiple times, therefore making it quite important! Countertops are high use areas that need to be both durable and attractive. There are many different options when choosing which materials will be the perfect fit for the space. Some of these materials include: laminate, tile, wood, granite, solid surface or most popular engineered stone material of Quartz.
Nevertheless choosing the best material for your bathroom countertop often depends on your taste and the style you are going for. Below we cover Quartz countertop for bathroom vanities.
Quartz is quite similar in appearance to granite, while being 90% organic with only 10% being pigments and binders needed to create the counter. Some popular brands of quartz include Silestone, Caesarstone or Cambria. Keeping in mind that as a natural stone, process will be on the higher side compared to laminate or solid surface.
Some people would prefer quartz countertops because unlike granite and other natural stones, it is non-porous as it is binded by resin, making cleaning and maintenance easier. Additionally, because the surface is non-porous, it is very hygienic as there are no tiny pores for bacteria to thrive. Another advantage of quartz is its heat resistance – it doesn't bend or warp even in direct contact with heat, and burn marks can be easily sanded off. Quartz is also lauded for its scratch and impact resistance – it is more durable than natural stones because of its binders.
Perhaps the most important take-away from selecting a quartz countertop would be its cost. It is a little less expensive than granite, but costs more than twice as much as solid surface. Depending on the brand, the average cost of quartz would be around $75 per square foot, up to $100 per square foot for the higher end quartz. Another factor to consider is that quartz is not a good outdoor material – prolonged exposure to sunlight and other natural elements would fade the color/pigments over time.
Discover Granite & Marble invites all our customers to come right into our showroom and warehouse in Manassas and Charlottesville VA to select the perfect quartz slab for their Bathroom or Kitchen Countertops. You can see up close the dozens of Quartz colors available among the hundreds we have in stock.
Discover Granite is the one stop destination providing quality material and a many of options regarding color and patterns of Granite and Quartz Countertops. Its excellent services have made it the best natural and engineered stone countertops fabricator in Virginia over 40 years
We would also be happy to provide you with further information about our products and our current prices !!! Contact Us Schedule A Free Appointment  & Ask For A Quote Discover Granite and Marble believes in the importance of clients handpicking stones for their personal projects, which is why we offer showrooms and warehouses located at 9067 Jerrys Circle Manassas VA 20110. For further information on kitchen countertops or to add granite, marble, or quartz countertops to your kitchen, call Discover Granite and Marble. You can also make a free appointment to get service in Manassas, Fairfax Station, Clifton, Haymarket, Bristow, Gainesville, Wellington, Bull Run, Nokesville, Dale City, Dumfries, Woodbridge, Charlottesville, Ashburn, Sterling, Warrenton, Stafford, Culpeper, Leesburg