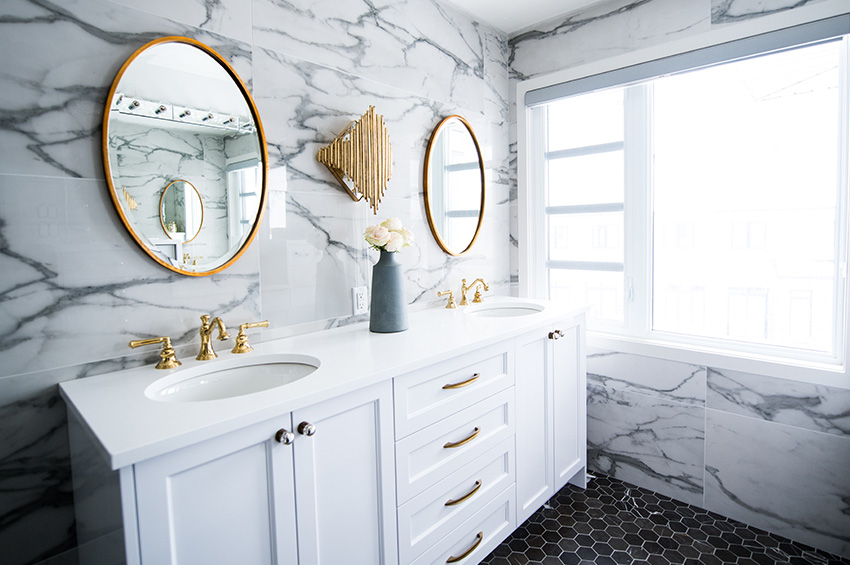 Stunning Bathroom Vanitytops That Lend Elegance To Any Bathroom
January 25, 2023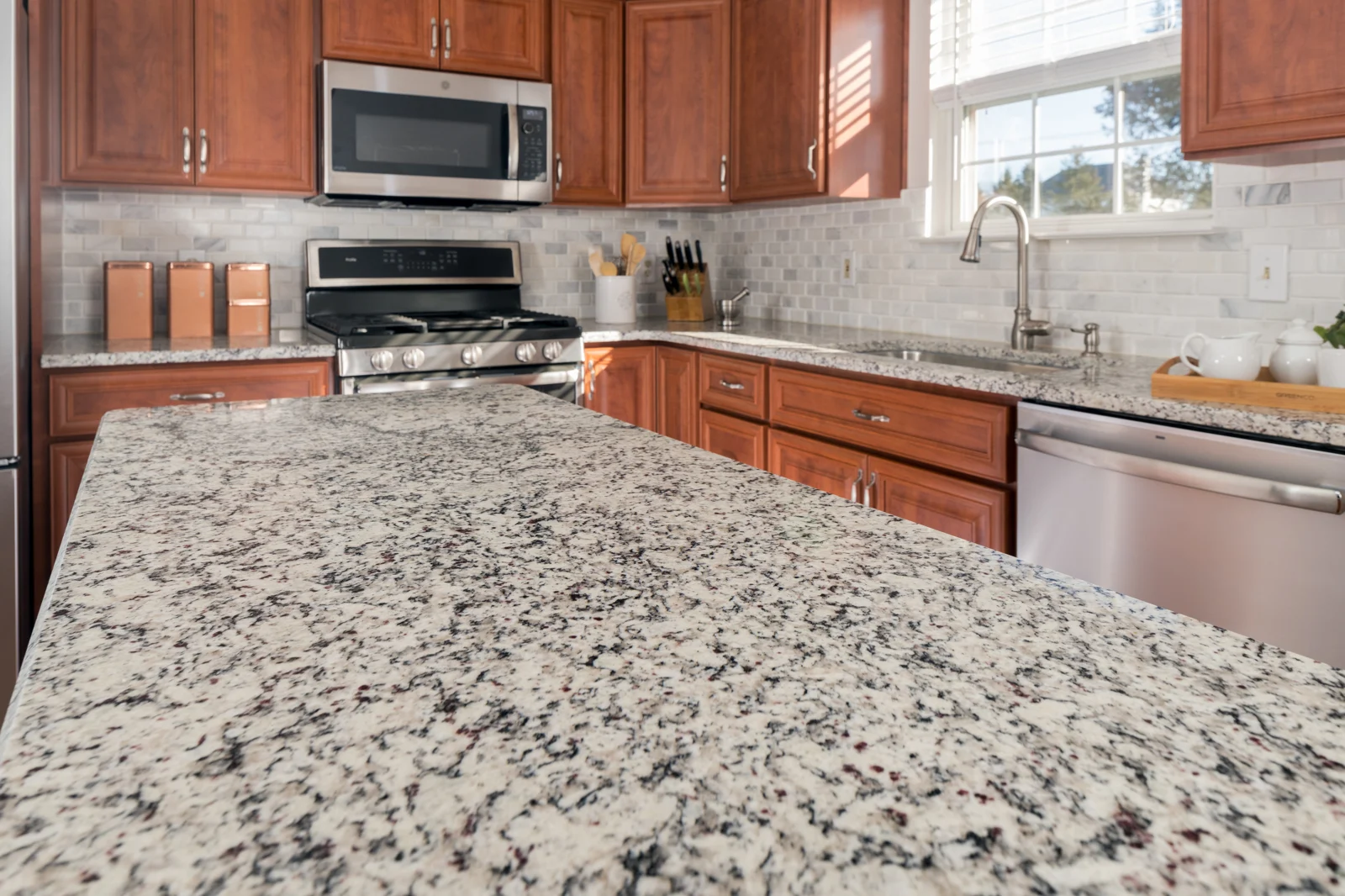 Choosing Between Granite or Quartz Countertops
February 15, 2023
So, you want to update your kitchen. Before you start tearing down walls and pulling out your cabinets, take a second to think about your budget and lifestyle. It may be easier for you to upgrade your kitchen one step at a time, rather than take on a huge renovation project.
A slower approach to your kitchen renovation will help keep your budget in check. It will also help you maintain the regular use of your kitchen since you could lose access to the space when doing a full renovation.
The first thing you should consider is the organization and layout of your kitchen. Then, if you're comfortable with the layout and general design of your kitchen, the next step is your counters.
When it comes to your kitchen countertops, there are many options available. From granite to tile to marble and everything in between, the choices are endless. While each material has its merits, today we will be looking at quartz countertops.
Resale Value and Quartz

When you're upgrading your kitchen, it's always smart to keep the resale value of your home in mind. According to Alpha Stone, quartz countertops are quite appealing to potential buyers. This is because quartz can provide the beauty of more expensive materials at a lower price point.
Many potential homebuyers are looking for granite countertops or a material that looks just like granite. Quartz kitchen countertops fit the bill perfectly. These counters can make your kitchen look more expensive and professional, at a fraction of the cost of granite or marble.
Versatility of Quartz

Since quartz counters are engineered in a factory, you can find them in a wider range of colors than natural materials. These countertops consist of around 94% natural quartz. The remaining 6% is generally a mixture of polyester resins. You can also find quartz kitchen counters that include recycled glass, which gives the counters a unique look.
Durable Material

One of the major complaints of homeowners with counters made from marble or granite is their propensity for stains. Countertops made of stone are quite porous, and thus are quick to stain if you're not careful.
For families looking for more durable countertops, quartz is the way to go. Since quartz counters contain resin, the material is hard and low-maintenance. That means you don't have to jump for the stone cleaner if your kid spills their juice!
There are many varieties of quartz available that mimic the look of stone, so you don't have to miss out on the look you want. If you're working with an interior designer, they will have a variety of options available for you. Or, you can turn to your local design showroom to take a look for yourself!
Keep It Clean

Do you have a big family that's always coming and going? Today, the kitchen is for more than food preparation. It is a place where people gather after work and school. Your kitchen is where your family takes on bake sale projects and hangs out together. It experiences more traffic than ever.
With more activity and traffic comes more mess. One of the best features of quartz is its antimicrobial properties. An antimicrobial surface helps to inhibit the growth of mold and mildew. It can also help prevent the spread of harmful bacteria.
Add this to the fact that quartz is easier to clean than natural stone surfaces, and you've got yourself an ideal material for countertops. A quartz counter would be perfect for home cooks and families with small children.
Quartz is a very heavy material and is generally installed in large slabs. This means that if you are able to get a slab large enough, your kitchen's counters could be seamless!
Given the weight of quartz slabs, you should hire professionals to install these counters. If a quartz slab is not handled properly, it can crack. This would be a costly mistake, and you would have to source a new slab or work with your broken slabs.
Do not let the pressure of installing quartz counters turn you away from them, though. When you're hiring a professional to install your counters, ask to see their previous projects and check for references. The benefits of quartz will outweigh the brief stress of the installation project.

When people talk about buying a house, you'll often hear them craving granite countertops. But if you can get a similar look at a lower price, why spend extra?
Material

The first difference between quartz and granite countertops is their material. We've already mentioned that quartz consists of 94% natural quartz, and 6% polymer resins. Granite countertops are 100% natural stone.
Price

With a difference in materials comes a difference in price. Given that granite needs to be mined from quarries across the world, its origin can greatly impact the price you pay. For instance, if you are sourcing granite from Italy and bringing it to rural Alberta, you'll pay a premium. But you can find more local quartz manufacturers, that will bring a lower price point and pride in supporting a local business!
Maintenance

When it comes to cleaning, quartz counters have the upper hand. Resin is much easier to clean than natural stone, and you don't need to reseal the surface on a regular basis.
Granite countertops are quite a fair bit of maintenance. You'll want to do some research into the best granite cleaner for your counters. Using the incorrect oil or cleaner can cause permanent stains, so this step is crucial. These counters also need to be resealed on an annual basis.

If you spill something on your quartz counters, start by wiping them off with a soft rag and a mild detergent. You will need to remove dried gunk with a plastic scraper and use a soft rag and soap to clean up after. For greasier messes, use a degreasing cleaner meant for quartz countertops.
One rule of thumb for cleaning quartz countertops is to avoid using harsh cleaners like bleach.
When you visit the Alpha Stones showroom, be sure to ask a showroom consultant about countertop materials. They will be happy to guide you through the kitchen design process. This includes the fixtures that will look best with your chosen countertop material.
For further information about countertops or to add granite, marble, or quartz countertops to your kitchen and vanity tops to your bathroom, call Discover Granite Now!
Discover Granite is the one-stop destination providing quality material and many options regarding color and patterns of Marble, Granite, and Quartz Countertops. Its excellent services have made it the best natural and engineered stone countertops fabricator in Virginia for over 40 years We would also be happy to provide you with further information about our products and our current prices !!!
Schedule A Free Appointment & Ask For A Quote Discover Granite and Marble believes in the importance of clients handpicking stones for their personal projects, which is why we offer showrooms and warehouses located at 9067 Jerrys Circle Manassas VA 20110.
For further information on kitchen countertops or to add granite, marble, or quartz countertops to your kitchen, call Discover Granite and Marble. You can also make a free appointment to get service in: Manassas, Fairfax Station, Alexandria, Vienna, Burke, Clifton, Haymarket, Bristow, Gainesville, Wellington, Bull Run, Centreville, Nokesville, Dale City, Dumfries, Leesburg, Woodbridge, Charlottesville, Ashburn, Great Falls, Warrenton, Stafford, Chantilly, Culpeper, Sterling
Discover Granite and Marble is the best Quartz Granite Marble Countertop fabricator in Manassas, Virginia. We offer many options to customers to choose the best match for their countertop project with a contemporary style and affordable budget. You can use "granite", "granite marble countertops", "Quartz Countertop near me", and" granite vanity top" to inform about countertops selection.