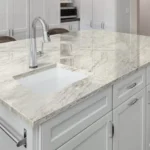 How to Keep Your Granite Sparkling
September 4, 2023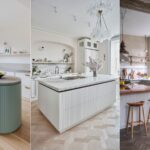 AUTUMN COUNTERTOP RENOVATION GUIDE
September 25, 2023
When deciding on kitchen and bathroom countertops, the number of options available can make the decision seem insurmountable. Each type of countertop material has its own advantages and disadvantages, so researching them is important to ensure a long-lasting and durable countertop for your home. One popular countertop option that has both of these qualities of longevity and durability is quartz.
So what are the advantages of using quartz countertops over other types of materials?

First, quartz is an extremely hard material, which makes it extremely durable. Quartz is also low-maintenance, more environmentally friendly than other materials, and has the ability to add a feeling of luxury to any space.
We will discuss the advantages of using quartz materials in countertops in more detail below.
Non-porous
Quartz is not a naturally occurring stone; Ninety-five percent is natural stone combined with polymer resins. Since quartz is not a natural stone, it does not have the pores that other countertop materials do. This means quartz will not absorb liquids and stains like other materials. If spilled liquids are cleaned up quickly, there will be no indication that a leak has occurred.
Durability
Because quartz is a manufactured material, it is made much harder than typical countertops. This extreme hardness ensures resistance to scratches, breaks, and damage from daily use. That doesn't mean it won't cause some damage if you drop an incredibly heavy object on it, but quartz can withstand a lot.
Low maintenance
Quartz is a low-maintenance alternative to other countertop options. Due to the porosity of other stone materials, sealer usually needs to be applied every few years, sometimes every few months. The purpose of this sealer is to prevent food particles, debris, and bacteria from entering these pores and causing them to become inflamed. Since quartz is a man-made material, it does not contain these pores and therefore does not require a sealant. This saves time and money.
Quartz is also easy to clean and keep tidy. There is no need to purchase special cleaners or chemicals when cleaning quartz. This material can cope with everyday cleaners commonly used in homes.
Environmentally friendly
Common stone countertops require ground mining and often need to be transported at great distances. Since quartz is a manufactured material, it does not require extensive mining and/or long journeys. Quartz can instead be sourced from local materials and sometimes even recycled materials, making it more environmentally friendly than other options.
Luxury
Similar to granite, quartz adds a feeling of luxury to any home. It's available in many color and design options, and it's also customizable, so there'll be no trouble finding the perfect style to fit any home aesthetic. Quartz also excels as a conversation piece and can be used to accent a room.
Related questions
What is the difference between Quartz and Granite countertops?
While both quartz and granite are high-quality, durable options for countertops, quartz is actually more durable than granite because it is a harder material. Quartz also does not have pores like granite, so it does not have a sealer and therefore requires less maintenance. However, granite has a higher heat tolerance than quartz, so it is unwise to place hot pots and pans on quartz.
Are There Any Disadvantages of Quartz Countertops?
Like anything, quartz countertops have a few drawbacks. As we mentioned in the last question, quartz countertops are not resistant to high temperatures. Quartz also has a more modern look, so it may not be the best option if you're looking for something rustic or antique-looking. Quartz can also be expensive. Don't forget to shop around to find the best price.
Quartz General
While choosing the perfect countertop material can be a difficult decision, it's important to do your research and determine the perfect material to fit your family's needs as well as the aesthetics of your home. With quartz countertops, families have the feeling of security that comes with a durable, low-maintenance countertop. This material has the necessary qualities to ensure long-lasting functionality and appearance.
Bench Installation
If you are looking for new kitchen and bathroom countertops, start your best Granite and Marble journey with us. Our countertop store carries the best selection of granite, quartz, and marble countertop solutions. We are a family-owned countertop company that has been creating beautiful kitchens and bathrooms for a long time. If you are thinking of renovating your kitchen, call us.
For further information about countertops or to add granite, marble, or quartz countertops to your kitchen and vanity tops to your bathroom, call Discover Granite Now!
Discover Granite is the one-stop destination providing quality material and many options regarding color and patterns of Marble, Granite, and Quartz Countertops. Its excellent services have made it the best natural and engineered stone countertops fabricator in Virginia for over 40 years We would also be happy to provide you with further information about our products and our current prices !!!
Schedule A Free Appointment & Ask For A Quote Discover Granite and Marble believes in the importance of clients handpicking stones for their personal projects, which is why we offer showrooms and warehouses located at 9067 Jerrys Circle Manassas VA 20110.
For further information on kitchen countertops or to add granite, marble, or quartz countertops to your kitchen, call Discover Granite and Marble. You can also make a free appointment to get service in: Manassas, Fairfax Station, Alexandria, Vienna, Burke, Clifton, Haymarket, Bristow, Gainesville, Wellington, Bull Run, Centreville, Nokesville, Dale City, Dumfries, Leesburg, Woodbridge, Charlottesville, Ashburn, Great Falls, Warrenton, Stafford, Chantilly, Culpeper, Sterling
Discover Granite and Marble is the best Quartz Granite Marble Countertop fabricator in Manassas, Virginia. We offer many options to customers to choose the best match for their countertop project with a contemporary style and affordable budget. You can use "granite", "granite marble countertops", "Quartz Countertop near me", and" granite vanity top" to inform about countertops selection.